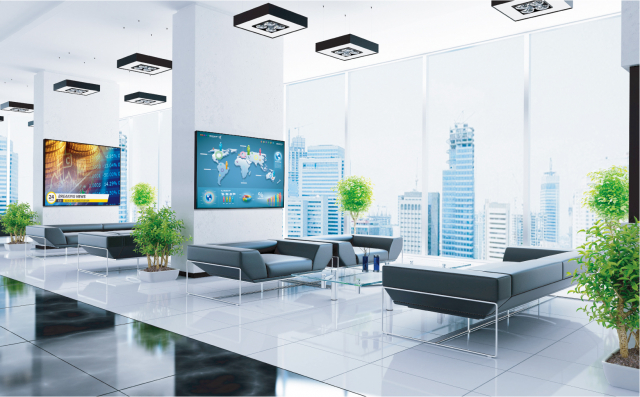 Will enable Ocean to deliver next generation visual experiences
Bradford, Yorkshire, UK, Date 2020 - Calibre today announced that the company had secured orders from leading UK DooH company Ocean Outdoor for two of Calibre's AiO (All-in-One) LEDFusion A130 130-inch LED displays.
Ocean Outdoor UK and Ocean Group recently moved into a new flagship facility which will be the companies' new London headquarters in Soho. Concurrently, the companies' West End office underwent a major refurbishment – which included the deployment of a number of displays throughout the offices.
Two of these new displays were Calibre's AiO LEDFusion A130 screens. One is deployed as the main presentation screen at the centre of Ocean's new boardroom and the second is used primarily by the sales team and for internal messaging. Both screens are integrated with the internal office AV equipment with the capability to change messaging in real-time reflecting how Ocean Outdoor operates the display of their client's advertising at all of their sites.
Ultra-slim at <38mm and bezel-free, and with a 170 degree viewing angle, the LEDFusion A130s feature HD resolution, a 1.5mm pixel pitch, 600 nits of brightness and a 5,000:1 contrast ratio for exceptional image quality. Control is via an iOS/Android app. Connectivity includes two HDMI ports; 3G-SDI; two USB ports; audio out; RS232 in/out; and RJ45 for LAN control. The units are also optionally OPS-pluggable.
"Ocean is a technology-led media company at the leading edge of DooH, and as such it's imperative that we equip ourselves with best of breed solutions," said John Kilfeather, Operations and Technology Director at Ocean Outdoor. "Our recent move provided us with an obvious opportunity to assess what was available. Calibre's AiO displays impressed us with not only their size, but also their outstanding image quality, their functionality and flexibility and their ease of deployment. They now enhance our everyday operations."
Ocean Outdoor specialises exclusively in digital in super-premium and globally iconic screen locations. The company has category-defining assets across the key top 10 cities and retail centres of the UK - London, Glasgow, Edinburgh, Manchester, Birmingham, Leeds, Liverpool, Nottingham, Newcastle and Southampton. In addition to key cities, Ocean Outdoor operates the UK's most prestigious out of home advertising locations, including Landsec's world famous Piccadilly Lights, London's BFI IMAX, the Two Towers East, the Birmingham Media Eyes, and the full motion networks, The Loop and The Grid. Ocean Outdoor also holds exclusive external rights for Westfield London and Westfield Stratford City, the largest urban shopping destinations in Europe.
"To receive orders for the AiO from a digital signage industry leader is both exciting and gratifying," said Willy Tsai, Managing Director, Calibre UK. "We knew when we announced this family of display solutions that they represented something new, exciting and special – something that could truly deliver a next generation visual experience - and this order from Ocean Outdoor confirms our belief."
Ocean Outdoor is a pioneer in DooH advertising technology, leading a new wave of creative solutions through its Ocean Labs division including proprietary solutions such as Vehicle Detection Technology, SimplyFi (Wi-Fi Sponsorship), LookOut Facial Detection Technology and Augmented Reality.
The AiO LEDFusion A130 is one of a family of three screens The LEDFusion A120 features a 120-inch diagonal screen while the most recent addition is the LEDFusion A160 with a 163-inch screen. LEDFusion displays are designed for the most demanding applications including pro-AV, rental/staging, broadcast, houses of worship, medical, corporate AV and education. Packed in a single flight case – which contains everything needed for installation, including simple tools – each LEDFusion display can be simply manoeuvred into position and be operational in less than sixty minutes.
Two LEDFusion A130s and a LEDFusion A160 were recently installed at two presidential palaces in Indonesia.
About Calibre
Multi-award-winning British company Calibre is a pioneer in image processing technology. Over the past 30 years, it has achieved world recognition with the Queen's Award for Enterprise and was one of the designated brands for video processing in the Olympic Games. Calibre is a market leader with innovation, providing image scaling and processing technology for use in broadcast and television, large venue projection and LED videowalls. Calibre became part of Coretronic Corporation in August 2017, which is a milestone in the global chain of the Coretronic Group. Coretronic will continue expanding its international market share, cultivating the industry's best talent, innovating in technology and providing each customer with added value. www.calibreuk.com
Calibre Sales Contact:
Peng Wu
Media Contact:
Kylie Yeh